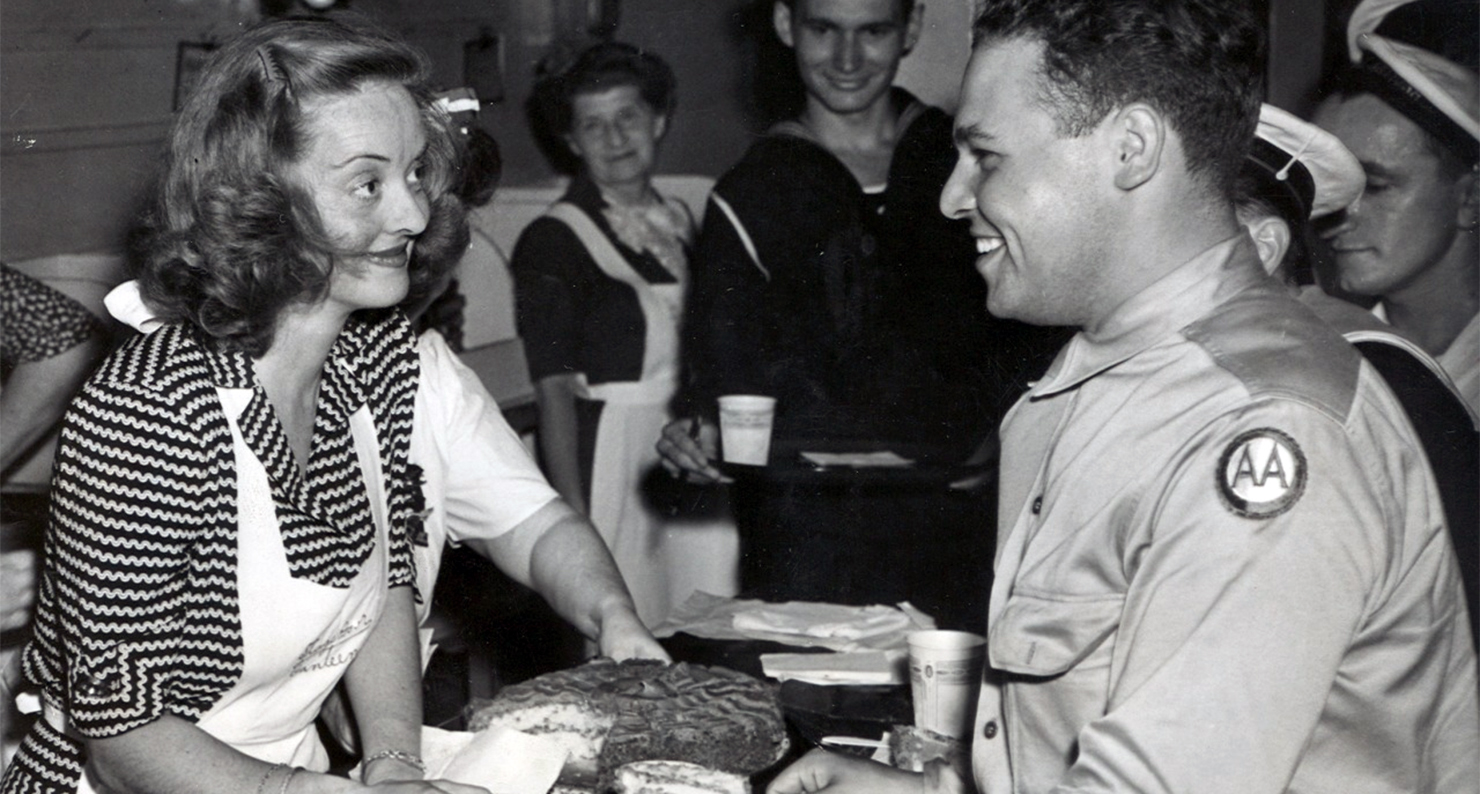 "Through these portals pass the most beautiful uniforms in the world"
—Sign over the entrance to the Hollywood Canteen
When America went to war following the bombing of Pearl Harbor, Hollywood went to war as well. Quite literally: between 1941 and 1944, over 6000 Hollywood workers joined the service, including 1500 actors. Clark Gable manned machine guns; Douglas Fairbanks, Jr. won a silver star; Jimmy Stewart flew dozens of bombing runs over Germany, rising from private to colonel. It was the equivalent of Will Smith going to Afghanistan and Brad Pitt on the ground in Iraq. The government understand the risk of putting prominent faces in battle, but also understood the stars' potential as recruitment tools: a recruitment film starring Stewart supposedly prompted 100,000 men to enlist in the air force.
But Hollywood also went to figurative war, partnering with the war office in dozens of ways, some more obvious than others. The "Hollywood Unit" made training films, recruitment films, and newsreels, while various genres and stars were given over to "war production," meaning a film noir starring a curmudgeonly iconoclast like Humphrey Bogart suddenly became Casablanca, complete with self-sacrificing conversion to the allied cause. Under this wartime production paradigm, The Hurt Locker would have become a celebration of grace under pressure.
Hundreds of stars, however, couldn't go to war: they were too female, too old, or unable to pass the draft physical. Many of these stars toured the famed USO Circuits; some performed on large theaters on base, while others traveled to the front on the Fox Hole Circuit, giving impromptu performances on makeshift stages just miles from the front. 53,000 appearances by 4100 performers over four years, a figure that boggles the mind. The USO Circuits still operate today (Louis CK famously profiled his visit in an episode of last season's Louie) but with neither the vigor nor visibility of World War II (or, for that matter, Vietnam or Korea).
All of this information is, to some extent, common knowledge. What people forget about is the sexiest part of the war effort, operated entirely outside of the auspices of the war board: The Hollywood Canteen.
The Canteen was the brainchild of actor John Garfield, a "flag-waving socialist" unable to enlist because of a heart condition, and Bette Davis, the so-called "fourth Warner Brother" and reigning queen of the studio. They wanted a place for troops to have fun before embarking on tour—and for the stars to facilitate that fun. Garfield suggested the idea, but Davis ran with it, finding an abandoned nightclub a block off Sunset Boulevard and calling upon her agent, Jules Stein, to head the financial committee.
Stein was head of powerhouse talent agency MCA, notoriously private, tremendously powerful, and effectively able to make everyone in Hollywood do anything he wanted. Stein convinced Columbia's notoriously acerbic studio head, Harry Cohn, to donate the profits from Talk of the Town, starring Cary Grant and Jean Arthur, in exchange for publicity linking the film to the cause. With a massive fundraiser at Ciro's (the hotspot of the Hollywood social scene) and the film profits, the Canteen was in business.
And here's where it gets truly inconceivable.
Every night of the week (save Sunday), 2000 GIs would pour into the Canteen. These troops were days, if not hours, away from embarking to the Pacific. They would get all the free food and "refreshments" they desired. And by "refreshments" I mean coffee, tea, water, and soda—no alcohol allowed. And they spent the night...dancing. With the stars. Some of the stars were B-List, "starlettes" as they were often called, on contract to studios, with just a few credits to their names. Pretty faces, questionable talent. Today's analog = reality stars. But there were always big stars as well—Bette Davis cutting cake, archrival Joan Crawford washing coffee cups, Betty Grable setting the record for jitterbugging, amassing three hundred cut-ins in a single hour. Bing Crosby brought his two young sons along to sing Christmas Carols on Christmas Eve; Dorothy Lamour dressed up as Santa Claus. Years later, Johnny Carson would later recall his night at the Canteen as a naval air cadet, dancing with Marlene Dietrich.
The Canteen was democratic in the most essential sense of the word. The stars did the dishes while the soldiers, for one, fleeting night, lived the life of the movie star, surrounded by beautiful, bountiful women.
Buxom stars in a sea of hungry boys: the potential for scandal was high. Anyone caught sneaking alcohol—or slipping it to one of the stars—was handed over to the LAPD. Stein set strict rules for the women, preventing them from exchanging addresses, "fraternizing" outside of the club, or, god forbid, making out on the dance floor. Black, Filipino, and Hispanic servicemen were officially discouraged from attending, lest their "mixed dancing" up and angered the rest of the service men. It was an ostensibly chaste, however bigoted, establishment.
Save, of course, what the stars got away with behind closed doors. Hedy Lamarr hooked up with co-performer John Loder while her fiancee was off at war; Susan Hayward sent a Dear John letter to her boyfriend, paired up with master of ceremonies Jess Barker, and married him three months into her pregnancy. But as actor Jack Carson recalled, "there were some real lookers at the Canteen...but Bette was the one they clustered around." After the mysterious death of her husband one year into the operation of the canteen, Davis took up with Signal Corps Corporal Lewis A. Riley, even following him to the South when he was transferred from Los Angeles to Atlanta. Warner Bros. was far from thrilled. But then, imagine that, Corporal Riley was transferred overseas! Davis returned to Hollywood, got bored, and went back to attracting the eyes of all the Canteen boys.
Starlets amassed piles of wings and dogtags, given to them by boys who may or may not have come back. Dietrich once came straight to the Canteen after a day of filming Kismet, covered head to toe in gold paint, and whipped the crowd into an inexorable frenzy. Warners even made a movie, Hollywood Canteen, featuring the dozens of stars in regular rotation, all of whom donated their salary to the Canteen fund. (Joan Crawford called the film "a very pleasant pile of shit for wartime audiences.")
Today, we have plenty of philanthropist stars. But this was no telethon or Make-a-Wish Visit, no PSA taping or Make a Difference Day. This was a six-day-a-week affair that went on for four years. And while no star was there every day (Davis, after all, had to take time to go chase a soldier to Georgia) many of them were there several days a week, every week, without fail. These men and women weren't lying in bunkers or taking bullets—or anything even a shade that dangerous—but they were performing an ideological public service, completely gratis, that equaled any number of propaganda posters, training films, or Victory Gardens.
In the early 1940s, a Hollywood movie star was the closest American came to royalty. There was Charles Lindbergh, there was the President, and then there were the stars—faces that weren't just familiar to those who bought fan magazines, but everyone. They were the most glamorous, the wealthiest, the most visible—and they were spending their nights with seas of men, men who would take their Canteen experience as a talisman, a remembrance of the gratitude of all of America, even the highest of the high.
Sure, stars who performed at the Canteen experience a publicity boost: it was magnificent PR, which is part of the reason the studios embraced it so wholeheartedly. But the success of the Canteen, and the impossibility of its existence today, underlines just how much our political and cultural climate has transformed.
In 2001, Karl Rove met with Hollywood executives to go about arranging a latter-day Hollywood unit, hoping to arrange public service spots, documentaries, and other forms of "war on terror" collaboration—even, potentially, a revival of the Hollywood Canteen. But Rove's efforts never came to pass. It wasn't because today's stars are too selfish, or studio heads were too concerned with the bottom line. There were few troops on the ground, fewer still "shipping out" in the traditional way, and there was little to no access to the independent information about the war. It was, as many have pointed out, a wholly different war, with dramatically different discourses of nationhood, sacrifice, and citizen collaboration.
In World War II, the government transformed fear into unity. In the atmosphere of self-sacrifice, the Hollywood Canteen was not remarkable—it just was. Such a sustained commitment to a government cause, and what it seems to represent, leaves us in the same sort awe as if Marlene Dietrich, bathed in gold, just took our hand and led us to the dance floor.