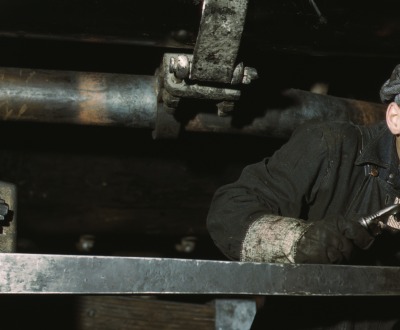 A young worker at the C & NW RR 40th Street shops, Chicago, Illinois, 1942. Photograph by Jack Delano. Library of Congress.
Lines of Work
Volume IV, Number 2 | spring 2011
Man must be doing something, or fancy that he is doing something, for in him throbs the creative impulse; the mere basker in the sunshine is not a natural, but an abnormal man.
—Henry George, 1879
Lapham'sDaily
Stay Updated Subscribe to the LQ Newsletter

Roundtable
A fight over all things visible and invisible, featuring practical magic, empire, and terrible men. More

DÉjÀ Vu
2018:
Woman announces she is divorcing her pirate ghost husband.
1926:
Man sues wife for adultery with a ghost.
More

The World in Time
Lewis H. Lapham talks with Alan Rusbridger, author of Breaking News: The Remaking of Journalism and Why It Matters Now. More