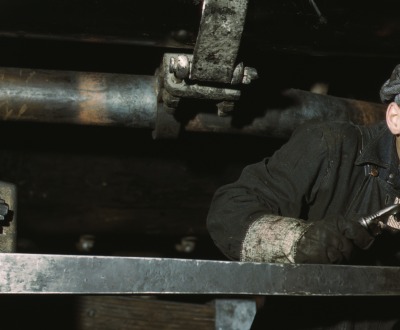 A young worker at the C & NW RR 40th Street shops, Chicago, Ill, photograph by Jack Delano, 1942. Library of Congress.
Lines of Work
Volume IV, Number 2 | spring 2011
It is shameful and inhuman to treat men like chattels to make money by, or to regard them merely as so much muscle or physical power.
—Pope Leo XIII, 1891
Lapham'sDaily
Stay Updated Subscribe to the LQ Newsletter

Roundtable
Another news cycle, another media mogul stirring up electoral buzz. More

DÉjÀ Vu
2018:
Man auctions Dixie cup that could have touched the lips of Elvis.
1921:
Man auctions Lord Byron's cup made from a human skull.
More

The World in Time
Lewis H. Lapham talks with Holger Hoock, author of Scars of Independence: America's Violent Birth, at a New York Public Library event. More