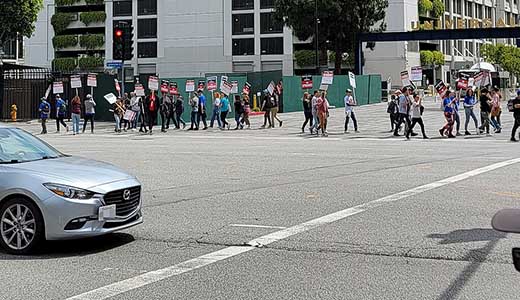 On the ninth day of the Writers Guild of America strike, five television writers and producers, two of whom run their own matchmaking company, organized a singles event called Strike Up a Romance. "We've heard these legends of writers meeting their spouses at the last picket in 2007," one of the organizers said. (One such couple who had met at a singles-themed event they had organized during the 2007 WGA strike and recently celebrated their ten-year anniversary were there.) The New York Times reported on the scene at Universal Studios: "One person could be overheard sharing a hopeful thought: 'Maybe I'll meet somebody.' 'Manifest that,' someone replied."
While fighting to "save the companies from themselves" earlier that day, Michael Robin said, someone on the picket line had caught his eye, and he was hoping he would spot her at the restaurant. "I was in the crosswalk," Mr. Robin recalled. "She was wearing an orange vest and a WGA captain baseball cap. She saved my life from oncoming traffic. Sparks flew"…Varta Torossian, a television drama writer originally from Bulgaria, said she would prefer to date someone from the industry who could understand her lifestyle, but had found it difficult to make time. "I seriously think the WGA should have their own OkCupid—OkWriters or whatever," she said. "We're fighting to not be squeezed out of our life and savings," she added, "but to have personal lives and to have sustainable lives and time for ourselves"…Some strikers also went online to criticize others for expressing interest in dating on the picket line, worried it could overshadow the strike. But others argued that activities such as the singles events and the Black writers meet-up would help sustain the WGA membership through what is expected to be a long strike.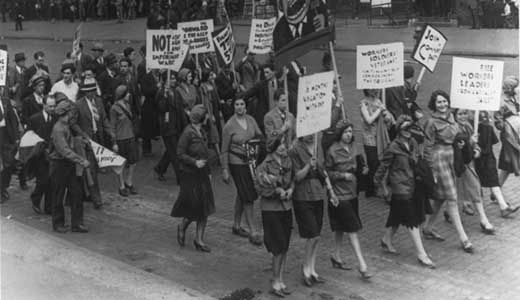 Paul Levinson, who grew up in cooperative houses in the Bronx organized primarily by Jewish communists in the 1920s, joined the American Communist Party at the age of fifteen after spending the previous five years in its youth program. "From the time I can remember until the time I was thirty years old, I never really experienced myself, nor did anyone else I knew, outside of a political, organizational context," he recalled. This remained the case when it came time to marry. Party men were expected to adhere to strict rules when it came to "male chauvinism" and expel any members who crossed a line ("and of course, going to bed with her was taking advantage of her"). But "I was grateful for the doctrine," he told Vivian Gornick, who recounted his story in her 1977 book The Romance of American Communism. "After all, who the hell knew how to go to bed with a woman?"
We felt tremendous surges of comradeship, political excitement, the pity and beauty of human suffering, the mad wild joy of revolutionary expectation. We lived with these emotions daily. We shared them with each other. That was our intimacy. And, often, when a man and a woman shared these emotions things got all mixed up, and they took these feelings for romantic love. Mostly, it was not love. Mostly, it was essentially platonic friendship mixed up with indiscriminate sexual urges…I guess in a way it was like that with me and Laura, too. We met, we liked each other, we worked together, we were involved night and day in political activity, we started going together, we were "­­in love." And everybody loved us for being in love, and everybody said how could the revolution fail to come if revolutionary activity had produced such a beautiful pair of revolutionary lovebirds like me and Laura. So, after a while, it was as though if we broke up we were betraying the revolution.