In April the artist Julia Morrison took screenshots of Instagram messages she says were sent by actor Armie Hammer and posted the images for sale as "non-fungible tokens," or NFTs. Hammer and Morrison began their correspondence after Morrison used the anticapitalist slogan "eat the rich" (first attributed to Jean-Jacques Rousseau) in a 2020 Instagram story—to which Hammer replied, "Dibs on the glute muscles and ribs." In further messages, Hammer fantasizes about having a sex slave and compares himself to the Roman emperor Caligula. After reports of Hammer's apparent cannibalism fetish began circulating online and multiple women accused the actor of physical and sexual abuse, Morrison decided to transform the conversations into digital art and used the NFT marketplace—where unique digital assets are bought and sold—as her medium. She believes auctioning off "Dibs on Ribs" and "Caligula Triptych" will extinguish any doubts about the conversations being genuine—every NFT is verified through blockchain technology, and a buyer's willingness to purchase the messages suggests authenticity. She responds to anticipated questions in her artist statement:
Really though, what is your intention? Is it not financial? Do you think it's wrong to profit?
My intention behind these artworks is the same as in all the artwork I create: to transform the things that happen in my life and in a way that makes sense and from my own point of view. Why should women risk coming forward without seeking to benefit? We should benefit. To think that we shouldn't indicates we inhabit the mind of our oppressor…
I still don't understand. This is art?
Let me put it this way: Armie Hammer made himself into a meme, and I made him into the next Campbell Soup Can.
Is there anything you want Armie to know?
I could never live in a cage.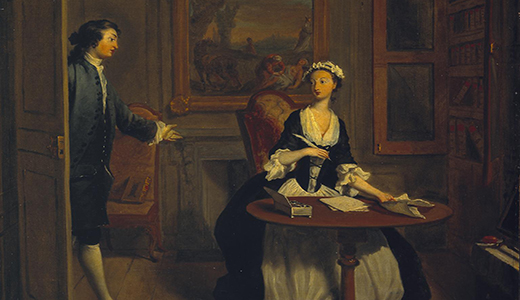 As a young woman, the French actress Marie-Jeanne Riccoboni was desperate to escape her family's house and accepted the first offer of marriage she received. The union was not a happy one—her husband was unfaithful and abusive—and Riccoboni soon began an affair with the comte de Maillebois, a high-ranking nobleman. In 1745 Maillebois left Riccoboni to secure an advantageous marriage to the daughter of the Marquis d'Argenson; just over a decade later, Riccoboni published her first novel, Lettres de Mistriss Fanni Butlerd. The text consisted of 116 letters sent by a young Frenchwoman to Charles Alfred, an English "comte." Critics immediately suspected the letters were penned during the real affair. Riccoboni never publicly addressed the controversy but admitted to a friend, "I put in one of my works the event that first changed the direction of my fate." In the novel, Fanni reclaims her letters from Charles after the affair ends and publishes them as proof of his betrayal. Her final letter opens the novel:
If the naturalness and accuracy of these letters, which gives them all their merit, attract the public's favor; if chance causes you to read them; if you recognize the expressions of a heart that once was yours; if something brings to mind a feeling that you reciprocated with the basest ingratitude; may the vanity of once being the object of a love so tender, so delicate, never cause you to name the woman who had so much confidence in you. At least show her, by keeping her secret, that you are not unworthy in all respects of the sincere affection she had for you…It was not this passion that made her tears flow, that brought pain and bitterness to her soul. She accuses only you of the evils she has suffered; she recognizes only you as the author of her sorrows. Her love was the source of everything good in her; you cruelly poisoned it. She doesn't hate love, she only hates you.
I have nothing to say to the public. If I amuse them, I will have done much more than I hoped; if I bore them, I will have done what thousands of others do every day.