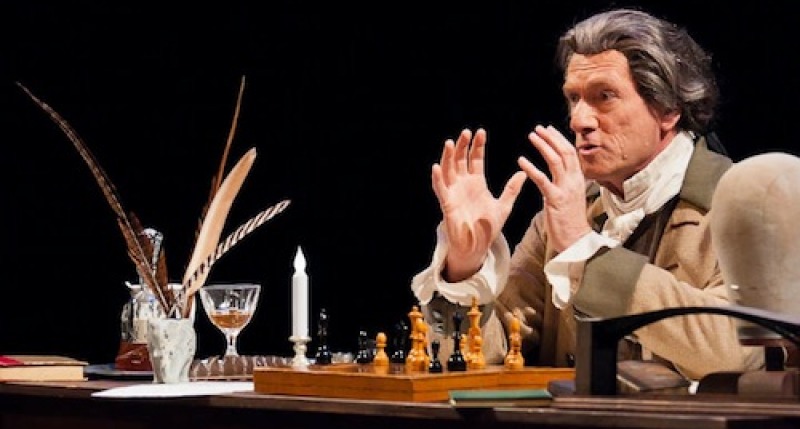 A one-man show by Ian Ruskin
Presented by Joe's Pub at the Public Theater with Lapham's Quarterly
Doors at 6:00 pm, show at 7:00 pm
"Unmistakable topicality and human interest infuse Thomas Paine's To Begin the World Over Again...Ruskin, whose versatility, innate affability and easy delivery land directly between middle-period Geoffrey Rush and the late Roger Livesey, conveys the truth as he sees it, holding focus...maintaining intrigue...and the essence of Paine emerges."
—David C. Nichols, Los Angeles Times
The eloquence and passion of Thomas Paine are on full view in Ian Ruskin's one-man show about this fiery patriot and Founding Father. Writer-actor Ruskin captures Paine's brilliance, contradictions, and contrariness in a vivid portrayal of the radical enlightenment figure that helped forge America's core.

Thomas Paine was the one truly radical Founding Father, a man who changed the face of the world with his pen. Common Sense inspired the American Revolution, Rights of Man defined the French Revolution, and The Age of Reason called on us to use our ability to reason as the basis for our beliefs and morality. He is largely forgotten and greatly misunderstood yet ironically quoted by all and every political faction in the world today.
"It's a honor to be a part of this kind of a show, let me tell you. It's got a lot to say about not just our history but about who we are and who we should be."
—Haskell Wexler, Academy Award–winning director and cinematographer
Ian Ruskin has worked extensively in theater, television, and film in England and Los Angeles. His interest in social justice led him to found The Harry Bridges Project in 2000. He has gone on to produce, write, and narrate radio and film documentaries and the one-man play From Wharf Rats to Lords of the Docks. The film version, directed by Haskell Wexler, aired nationwide on PBS for four years. His latest play, written with a COLA Fellowship, Thomas Paine's To Begin the World Over Again premiered on opening night of Grand Performances in Los Angeles and has been performed over sixty times to date. A film version, also directed by Haskell Wexler, aired on PBS stations across the U.S.
Email events@laphamsquarterly.org for more information.
Joe's Pub at the Public Theater
425 Lafayette Street, New York, NY