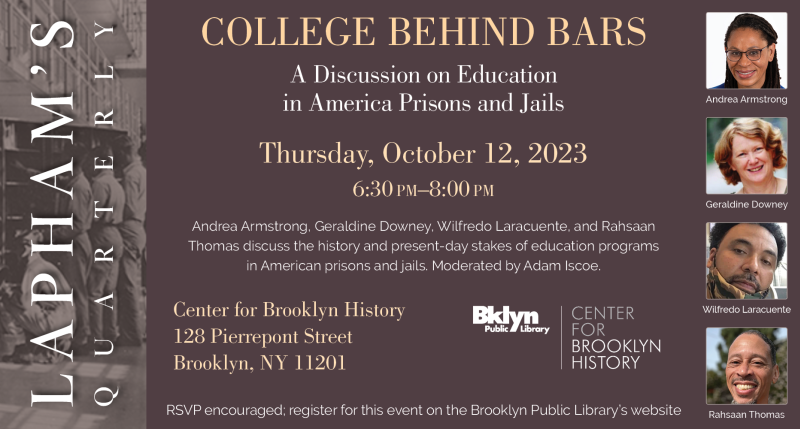 Thursday, October 12, 2023
6:30 pm - 8:00 pm
Center for Brooklyn History
128 Pierrepont Street
Brooklyn, NY 11201
RSVP encouraged; register for this event on the Brooklyn Public Library's website
There are more than two million people living behind bars in the United States—in state and federal prisons, local jails, and immigration detention facilities. Many live in dire conditions despite some efforts to create more humane prisons and jails. In recent years, educators and advocates—as well as an increasing number of prison officials—have promoted the idea that access to college degree programs is the single most effective method to reduce recidivism, decrease violence within penal institutions, and prepare the incarcerated for success after their time in prison.
Education-based reform in prisons is an idea with a rich and intricate history. From the mid-nineteenth century to the present, waves of educational reform and repeal have collided with the steady expansion of carceral systems and worsening prison conditions. To explore this complex and still-evolving history, Lapham's Quarterly and the Center for Brooklyn History will present a panel discussion on the philosophical and material origins of prison education. Join Andrea Armstrong (Loyola University New Orleans), Geraldine Downey (Columbia University), Wilfredo Laracuente (Mercy College/Columbia University at Sing Sing), Rahsaan Thomas (Ear Hustle), and others as they explore how prison education has developed across time, its wide-ranging impacts, and where it stands today. Moderated by Adam Iscoe.
Andrea Armstrong is the Dr. Norman C. Francis Distinguished Professor of Law at Loyola University New Orleans, College of Law. She is a leading national expert on prison and jail conditions and is certified by the U.S. Department of Justice as a Prison Rape Elimination Act auditor. She founded IncarcerationTransparency.org, a database/website designed by Professor Judson Mitchell that provides facility-level data and analysis about deaths behind bars in Louisiana and memorializes lives lost behind bars. Her research has been profiled by The New Yorker and quoted in the New York Times, The Atlantic, National Public Radio, and the Times-Picayune, among other outlets. An interdisciplinary scholar focused on the constitutional dimensions of prisons and jails, Professor Armstrong integrates incarceration law with history, health policy, and the arts.  She has also worked with museums, local artists, and philanthropic foundations to translate incarceration law and policy into spaces and mediums that are accessible to the general public.  
Geraldine Downey is director of the Center for Justice and Robert Johnston Niven Professor of Humane Letters in Psychology at Columbia University. Dr. Downey has worked on and taught courses about issues related to incarceration since the 1970s. This work has included a study of the first cohort of youth placed on probation in Ireland; codirecting a Mother-Child Visitation at Huron Valley Correctional Facility, in Michigan; and teaching in several prison college programs, including at Sing Sing, Bedford Hills, and Taconic Correctional Facilities in New York State. At Columbia, Professor Downey has been chair of the Psychology Department, vice-provost for diversity initiatives, vice-dean of arts and sciences, and dean of social sciences. She is a member of the Faculty Working Group of the Atlantic Fellows for Racial Equity, the Faculty Steering Committee of the Holder Initiative for Civil and Political Rights, and the University Task Force on Just Societies. She is a recipient of the Association for Psychological Science Mentor Award. Her work on the causes and consequences of social exclusion and rejection is internationally recognized, and she has received funding from NIMH, the Guggenheim Foundation, the Russell Sage Foundation, and the W.T. Grant Foundation. She is currently studying how identities of hope (e.g., the student identity) can transform the narrative about people deemed rejectable (e.g., people with a criminal conviction).
Adam Iscoe is a writer based in New York. His work appears frequently in The New Yorker. Iscoe's writing has also been featured in Texas Monthly, Harper's Magazine, and McSweeney's Quarterly Concern. He is currently a special projects editor and the program manager for incarcerated readers at Lapham's Quarterly. Previously, he was a visiting scholar at the University of California, Berkeley. Iscoe has taught journalism at Solano State Prison, in Vacaville, California; edited the San Quentin News, an award-winning newspaper produced by incarcerated journalists at San Quentin State Prison; and received writing grants from UC Berkeley, and the Brown Institute for Media Innovation at Stanford and Columbia Universities.
Wilfredo Laracuente is an advocate, educator, and formerly incarcerated leader. Currently a community organizer for the Office of the Community Liaison, he has served people affected by incarceration and violence in a variety of capacities. He is a former facilitator for Fedcap IMPACT in Queens, providing reentry transitional workshops for people returning from prison. He also served as mentor for the Justice Ambassadors Youth Council and the New Settlement Community Center, focusing on improving the lives of New York's most vulnerable youth and ending gun violence. In addition, Laracuente has worked as a teaching assistant for Columbia University's Prison Education Program. And before coming home in July 2021, he served as a peer educator and facilitator for the Council for Unity as well as administrative clerk for the Osborne Association's family-focused programs at Sing Sing Correctional Facility. Laracuente received his bachelor of science degree in behavioral science from Mercy College in 2019 and credits higher education in prison as a key factor in his own transformation.
Rahsaan "New York" Thomas earned an associate's degree from Mount Tamalpais College while incarcerated at San Quentin State Prison, serving a life sentence. He has used education in journalism, writing, communication, history, and political science to serve society. As a journalist, he has published over fifty articles from prison; co-hosted the Ear Hustle podcast, a 2020 Pulitzer Prize finalist; chaired a satellite Society of Professional Journalists chapter; helped restore voting rights to people on parole; and created Empowerment Avenue, an organization that connects artists and writers to platforms that get their voices into mainstream society for a living wage. Governor Gavin Newsom of California granted him an early release, citing Thomas' positive programming and college degree as the basis for clemency.
The Center for Brooklyn History is fully ADA-accessible. Should you require accommodations for the deaf or hard-of-hearing, please email us at events@laphamsquarterly.org.
Presented by Lapham's Quarterly and the Center for Brooklyn History.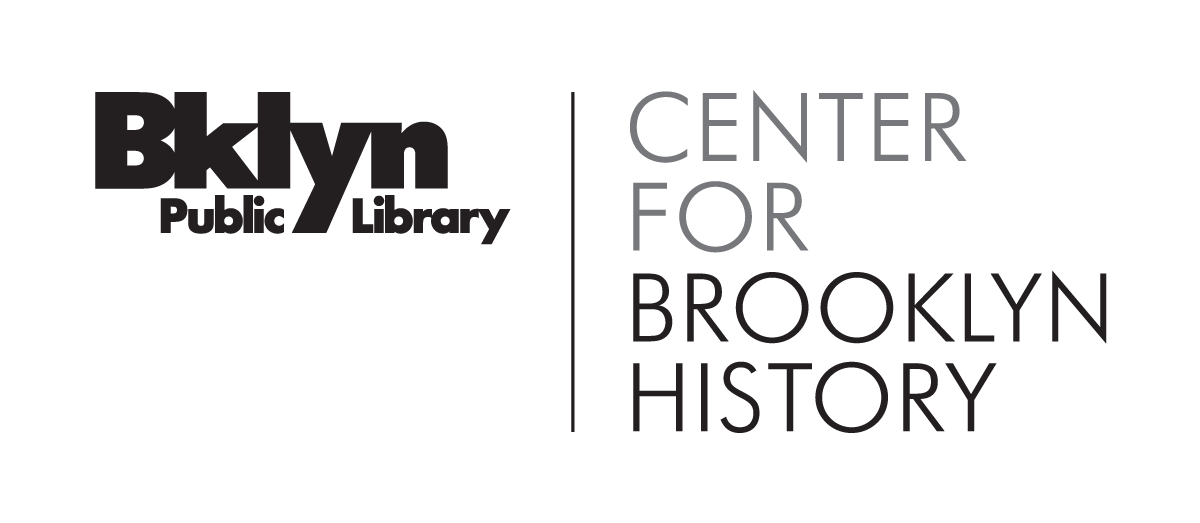 Center for Brooklyn History

128 Pierrepont Street

Brooklyn, NY 11201