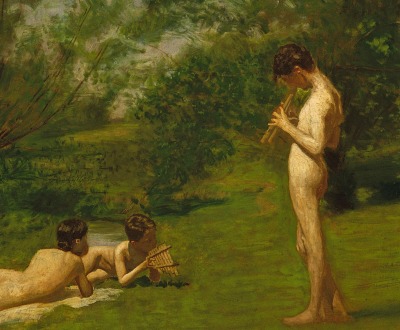 Arcadia, by Thomas Eakins, c. 1883. The Metropolitan Museum of Art, Bequest of Miss Adelaide Milton de Groot (1876–1967), 1967.
Youth
Volume VII, Number 3 | summer 2014
Miscellany
Gertrude Stein recalled that on the copy of her final exam for a class taught by William James she wrote, "Dear Professor James, I am so sorry but really I do not feel a bit like an examination paper in philosophy today." She then left the room. The next day a note arrived from Professor James that said, "Dear Miss Stein, I understand perfectly how you feel. I often feel like that myself"—and then awarded her the highest mark in the course.
Youth is the time to go flashing from one end of the world to the other both in mind and body, to try the manners of different nations, to hear the chimes at midnight.
—Robert Louis Stevenson, 1881