Education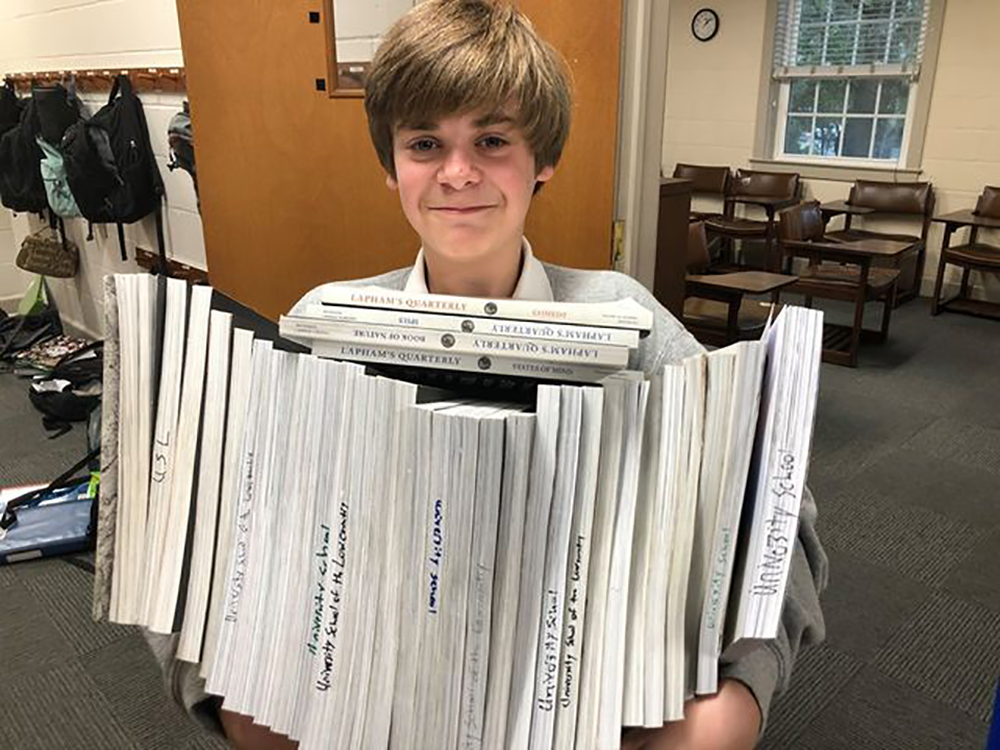 This page collects resources for educators interested in using Lapham's Quarterly in the classroom.
The Quarterly's education program is funded by a grant from the Alumbra Innovations Foundation, which is generously underwriting the cost of sending print and digital subscriptions of the magazine, as well as back issues and classroom sets, to schools across the U.S. See below for information about how to order copies of the magazine for your classroom.
Sign up for our education newsletter here to receive more information about our forthcoming offerings and suggestions for ways to use the Quarterly to connect the past to the present in your classroom.
Subscriptions and Back Issues for Schools
The Alumbra Innovations Foundation is generously underwriting the cost of sending print and digital subscriptions to Lapham's Quarterly to K–12 and community-college classrooms across the U.S. To request a subscription for your classroom or institution at no charge, please fill out the form here.
Back issues and classroom sets of Lapham's Quarterly are also available at no cost to educators, subject to availability. (See this list of currently available back issues.) To inquire about ordering materials for your class, email education@laphamsquarterly.org.
Need Help Using Lapham's Quarterly in Your Classroom?
If you'd like to discuss the resources on this website or need help identifying resources for your classroom, sign up here for a time to speak via phone during our open hours. Or email us at education@laphamsquarterly.org.
Online Resources
Each issue of Lapham's Quarterly collects ninety texts, from ancient to contemporary, on a topic of current interest and concern. Texts are selected from the world's greatest books, representing the diversity of world literature. Abridged rather than paraphrased, none of the texts in the Quarterly runs to a length longer than six pages, some no more than six paragraphs. The connecting of the then with the now is further augmented with testimony found in letters, speeches, and diaries; with maps, charts, and lists; and with original essays by contemporary writers and scholars. You can browse all past issues of the magazine here.
This website contains an archive of texts from more than fifty past issues of Lapham's Quarterly, including more than a thousand extracts from great works of history and literature, all available without a subscription or paywall. (Many excerpts that appear in the print magazine are not available online due to copyright restrictions.) You can browse readings by region, time period, or theme. Or search the site here. Also available are maps, infographics, quotes, historical miscellany, and original essays. The site is also host to an archive of web-native content, including essays and interactives.
Posters
If you are looking to decorate your classroom with educational posters about history, science, literature, and art, browse our online store, which features dozens of intricate maps and infographics on everything from the history of music notation to the world's oldest fairy tales. Use discount code EDU2022 at checkout in our online store, and you will receive 20 percent off any poster purchase.
Interested in Working Together?
Lapham's Quarterly eagerly collaborates with educational partners. Past projects have included a series of interactive course packets produced for Amplify with support from the Bill & Melinda Gates Foundation; an adaptation of an essay about the pagan philosopher Hypatia into a TED-Ed Animation with accompanying lesson materials; a conference on education in partnership with the New York Public Library; and a collaboration with the Smithsonian's Hirshhorn Museum's fortieth-anniversary exhibition Days of Endless Time. If you are interested in working together, please email Soraya Field Fiorio, Program Director, Education, at soraya@laphamsquarterly.org.
Help Us Distribute Lapham's Quarterly
Generous individual donors to Lapham's Quarterly support sending subscriptions to public schools, community colleges, prisons, libraries, shelters, community centers, and other nonprofit institutions.
If you would like to make a tax-deductible donation of a subscription or a complete library of Lapham's Quarterly issues to your alma mater or to a school, prison, or library of your choice, you can do so here. We can also select an underserved institution for you.