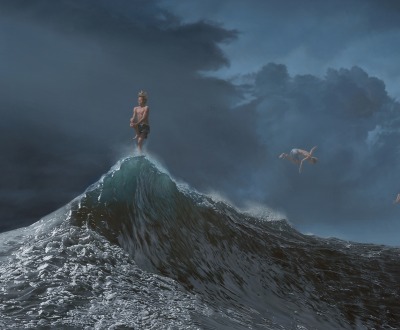 The Precision of Luck, by Joel Rea, 2015. Oil on canvas, 36 1/4 x 48 inches. © Joel Rea, courtesy the artist and Jonathan LeVine Gallery, New York City.
Luck
Volume IX, Number 3 | summer 2016
Miscellany
A twelfth-century-BC Chinese king consulted an oracle and was told his lucky charm would not be a tiger, dragon, bear, or leopard but rather a wise counselor. He soon came upon a sagacious old man fishing in the river and conscripted him into service. It is said the man's virtue was such that he fished not with a hook but with a straight piece of iron; acknowledging his integrity, fish impaled themselves voluntarily.
'Tis not a ridiculous devotion to say a prayer before a game at tables?
—Thomas Browne, 1642