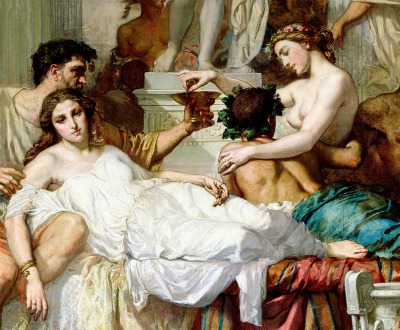 The Romans of the Decadence (detail), by Thomas Couture, 1847. Musée d'Orsay.
Intoxication
Volume VI, Number 1 | winter 2012
Miscellany
Primo Levi wrote that at Auschwitz "a large amount of alcohol was put at the disposal of" members of the Special Squad, inmates of the concentration camp who were forced to work the crematoriums, "and that they were in a permanent state of complete debasement and prostration." One such inmate said, "Doing this work, one either goes crazy the first day or gets accustomed to it."
Abstainer, n. A weak man who yields to the temptation of denying himself a pleasure.
—Ambrose Bierce, 1906
Lapham'sDaily
Stay Updated Subscribe to the LQ Newsletter

Roundtable
A fight over all things visible and invisible, featuring practical magic, empire, and terrible men. More

DÉjÀ Vu
2018:
Woman announces she is divorcing her pirate ghost husband.
1926:
Man sues wife for adultery with a ghost.
More

The World in Time
Lewis H. Lapham talks with Alan Rusbridger, author of Breaking News: The Remaking of Journalism and Why It Matters Now. More