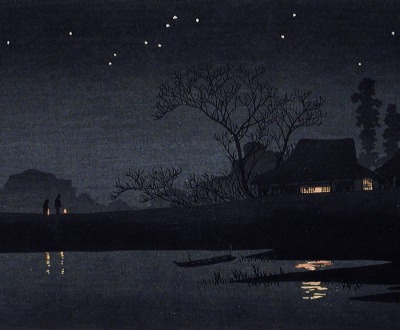 Starry Night, by Takahashi Shotei, c. 1926. The Los Angeles County Museum of Art, gift of Chuck Bowdlear, PhD, and John Borozan, MA.
Night
Volume XII, Number 1 | winter 2019
Miscellany
"Darkness has come upon me," a hymn in the Rig Veda laments. "O Dawn, banish it like a debt." The morning light is here asked, suggested translator Wendy Doniger, to act as a collection agency—to "make good what darkness had incurred or 'exact' the darkness from night as one would exact money."
Those who are awake have a world that is one and common, but each of those who are asleep turns aside into his own particular world.
—Heraclitus,
c.
500
BC
Lapham'sDaily
Stay Updated Subscribe to the LQ Newsletter

Roundtable
A fight over all things visible and invisible, featuring practical magic, empire, and terrible men. More

DÉjÀ Vu
2018:
Woman announces she is divorcing her pirate ghost husband.
1926:
Man sues wife for adultery with a ghost.
More

The World in Time
Lewis H. Lapham talks with Alan Rusbridger, author of Breaking News: The Remaking of Journalism and Why It Matters Now. More