The Burning of the Houses of Lords and Commons, October 16, 1834, by Joseph Mallord William Turner, c. 1835. © The Philadelphia Museum of Art / Art Resource.
Disaster
Volume IX, Number 2 | spring 2016
Miscellany
A scientific study found that hurricanes given feminine names tend to be deadlier than those given masculine names; people consider them less risky and take inadequate precautions. "Changing a severe hurricane's name from Charley to Eloise," the study notes, "could nearly triple its death toll."
I think we are inexterminable, like flies and bedbugs.
—Robert Frost, 1959
Lapham'sDaily
Stay Updated Subscribe to the LQ Newsletter

Roundtable
A debate in Berkeley about the power of a name. More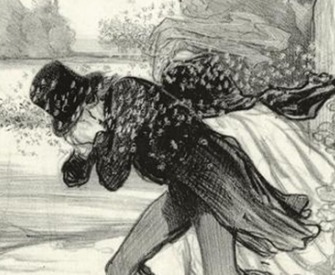 DÉjÀ Vu
2018:
The NYPD beekeeper vacuums up a swarm of bees on a hot dog stand in Times Square.
1906:
Bees take over a Los Angeles street as spectators watch.
More

The World in Time
Lewis H. Lapham talks with Jim Holt, author of When Einstein Walked with Gödel: Excursions to the Edge of Thought. More