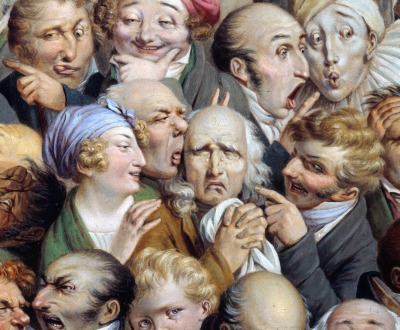 Thirty-Five Expressive Heads, by Louis-Léopold Boilly, c. 1825. Musee des Beaux-Arts, Tourcoing, France.
Comedy
Volume VII, Number 1 | winter 2014
Miscellany
In Moscow in 1921, a group of actors formed the Blue Blouses, a theater company that acted out scenarios from the news. Their success inspired the creation of many similar amateur troupes. One joke that emerged from the movement went: Bim and Bom were the most popular clowns in revolutionary Moscow. Bim came out with a picture of Lenin and one of Trotsky. "I've got two beautiful portraits," he announced, "I'm going to take them home with me!" Bom asked, "What will you do with them when you get home?" "Oh, I'll hang Lenin and put Trotsky against the wall."
I used to think that everyone was just being funny. But now I don't know. I mean, how can you tell?
—Andy Warhol, 1970